THAILAND


We are in Bangkok now, and just arrived yesterday, but what else can we say than.... WE LOVE IT!!! The first impression was very positive although we've been here only so shortly. But compared to India, this place is paradise, definitely!!! The food is great, very clean, very fresh, not too spicy... The people are friendly, they smile a lot, the city is clean (although we've heard that Bangkok is the dirtiest one of Thailand, so...) and it is less chaotic and better infrastructured than India. Well, this is it for now, we're about to see much more and experiece much more of Thailand, so we can tell you more soon, ok?
11th of December

It's 5:30pm and we're about to take the bus to an island in the south, Koh Pha Ngan. We don't know much about the island and we're not sure that there'll be Internet Cafes, so it might be that you won't hear from us for the coming two weeks! We had a wonderful time is Bangkok. Although it's a big crowded city, there are wonderful things to see... Chinatown was very impressive; not only for the nice shops and the street life, with all the small food stalls on the streets, but also in a less nice way. We arrived in a small busy street where a crowd was gathered in front of a shop, the television and the police was there too. We understood from somebody that three people just had been shot in the "Health Store"!! The floor was covered with blood!!! Chinese maffia?!?? Anyway, we visited a floating market, the bridge over the river Kwai, the Grand Palace, a temple complex and the old residence of the King. All these places are very well maintained and very interesting. We are making lots of photos, because it is difficult to describe the love for beautiful details that Thai people seem to have. Everything, to our eyes, looks beautiful: the food, the clothes, the flowers, the souvenirs, the people!!! Talk to you soon...
19th of December...

Hello, we are in Ko Pha Ngan right now, and this place is paradise!!! The weather is very good, although we've had some showers. We intend on staying here at least a few more days, after which we'll return to Bangkok, where we will spend our Christmas. It is going to be a bit surrealistic, for there are some Christmas decorations to be found, and of course it is 35 degrees!!! The island we are on is small, about 15km by 15km, it takes about an hour to go from north to south by scooterbike. The roads are quite bad, just a dirt road cut through the jungle. With the rain we had, it is very muddy, so dangerous if you're not careful!!! The island is not as developped and touristic as Ko Samui for instance ( it takes about an hour by boat to go there) This place is still really relaxed and quiet, and we appreciate the friendly people and the laid back atmosphere.... Just imagine: a ride through a very dense and green jungle, on a difficult road, and then you reach a long beach, fringed with coconut trees. The sand is golden, the sea water is turquoise and blue, the sky is clear. There are some wooden bungalows on the beach, simple but clean, and you can just relax in the hammock on the porch, sipping a coconut shake, while watching a beautiful sunset . But before you do that, you put a lot of mosquito repellent!! Anyway, it looks like we are having our New Year in Hong Kong, people told us it definitely is worth to go there then, 'cause it is a crazy place, with lots of fireworks!!! And after that....Japan!!! We just can't imagine how all this is going to be, except for one thing that has been told to us by a Japanese friend (we've met in Varanasi) It will be cold, very cold!!!! We'll talk to you again soon, ok?

26th of December

Only a few days passed since last time we wrote, but a lot has happened... Let's start with the bad news first, ok? On the night bus between Surat Thani (the main harbour near the island Ko Pha Ngan) and Bangkok, somebody stole one of our credit cards in our sleep. Since we always keep them on us, we didn't notice it, untill we got an e-mail (next day, fortunately), that our credit card was blocked by VISA. Somebody had used it to buy household appliances, for about 2800 NLG. You can imagine the shock, because everything happened totally unnoticed by us, and really unexpected, because we know that these things happen and we've taken a lot of precautions. Anyway, as they say: SHIT HAPPENS!! Hopefully, the whole thing will be solved in a few weeks.
The good news is that we spent a wonderful Christmas here. No snow and no gifts, but a wonderful atmosphere and a lot of good vibes. We went to an Italian restaurant, and then to the movies, in a huge plaza, the World Trade Center. Tomorrow, we are leaving for Hong-Kong and spend a few days there. We hope that we'll meet Bruce Lee's ghost, who knows... Today we've sent back 7kgs of goods (souvenirs, old clothes and a lot of junk that we haven't used in 3 months) so we'll travel light for the rest of the journey. You can read the next news on the page of Hong-Kong, in a few days.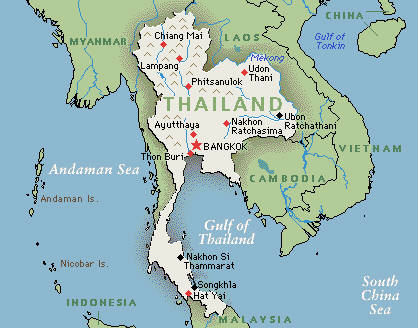 ---
Our Trip - Country's - What's Up?
Previous Trips - Indonesia - America - Mexico
About us - Family & Friends - Some Art - Pets